The Origin / History of Biggar Probus Club
Founded 18th February 1985
The club was founded under the sponsorship of the Biggar Rotary Club with support from their members Joe Auld, Bob Black and Bob McMurdo.
The first Committee was established comprising:-
President: Peter Thomson; Vice President: Bill Grainger; Secretary: Rev Tom Phillips; Treasurer: John Wilson Programme Convenor: Andrew Hope; Committee Members: Bill Craig and Alan Garnett
Club Members:
Eddie Amos, John Bertram, Bob Black, Bill Brownlie, Bill Bryce, Jim Chapman, Sam Clingan, Len Corben, Fred Graham, Ted Gray, David Heatley, John Howie, George Johnstone, Jim McMahon, Bob McMurdo, Eddie Prentice, Sandy Robertson, Bill Sharp, Jim Todd, Bill Turnbull, Jim Watson.
The following photograph was taken during the inauguration evening.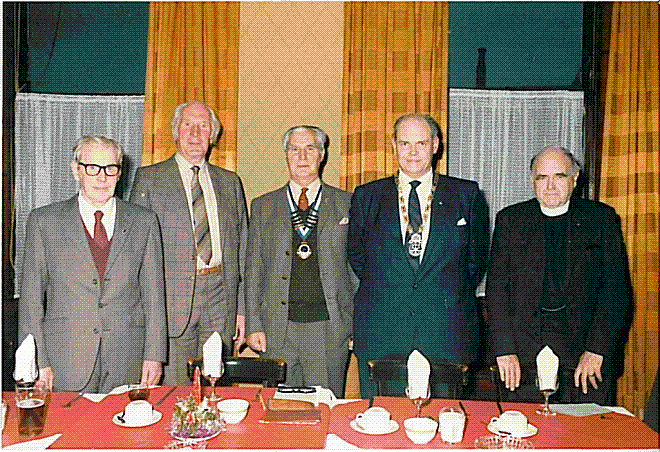 Photo, from Left to Right:-
Andrew Hope, Gavin Littlejohn, Peter Thomson (President), Harold Bryden ( President Biggar Rotary), Rev. Tom Phillips.